Base Chemicals
Entro's Base Chemicals offer a broad range of commodity and base products and services, differentiated by our strong expertise and tailored approach for chemical producers.
We are proactive in helping our customers to stay ahead of market trends and to continually improve commercial terms where possible.
Our Base Chemicals are arranged in an easy to access A to Z catalogue:
A
Acetic acid (Korea)
Adipic acid (China)
Allyl chloride​ (Japan)
Ammonium nitrate (Korea)
Anionic surfactants (Korea)
Entro Corporation are official export channel of Lotte BP chemicals in South korea Which is joint company between Lotte Group and BP UK. Lotte BP(Lotte BP chemicals) has 620,000 MT capacity and Produce high quality Food and Technical grade Acetic acid. Purity is 99.85%.
Purity range : 60% ~ 99.85%. ((Packing : 30 kgs Polycan, 210 kgs New steel drum, 1MT IBC tank, Iso tank)
We have a Kosher, Halal certi and Korea FDA food grade certi. We have strengths in particular for food grade.
Acetic acid is the main component of Vinegar, which is dilute acetic acid, often produced by fermentation, if it has the purity of 29% or under, it is used as a condiment, if 31% or under, it is used as a food addictive.
If 99% or more, in other words, when undiluted, it is called glacial acetic acid because it solidifies just below room temperature. Acetic acid is an important chemical reagent and industrial chemical, mainly used in the production of cellulose acetate mainly for photographic film and polyvinyl acetate for wood glue, as well as synthetic fibers and fabrics such as polyester, base materials for medical supplies such as painkillers, ink and paint. It is the basic elements used to manufacture countless goods and products that people use every day.​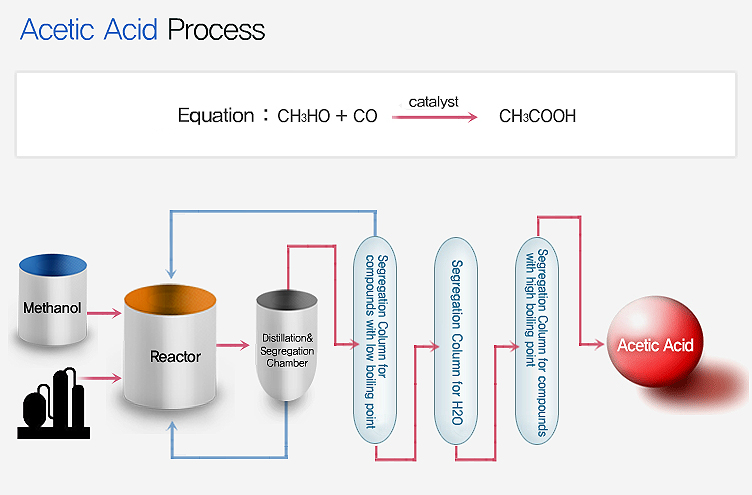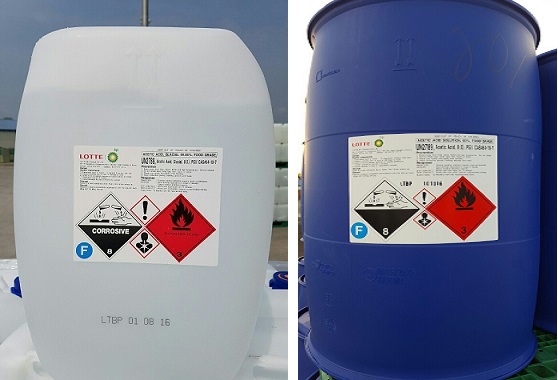 Ammonium Nitrate

B
Benzyl Chloride (China)
Benzyl Alcohol (China)
D
Dimethylformamide (DMF) (China)
DOP, DBP, DINP, DIDP (Korea)
E
Epichlorohydrin (Korea)
Epoxy resin (Korea)
Emulsifiers ​ (Korea)
EVA (Korea)
G
Glycol Ether (Korea)
Glyme & Propionates (Korea)
H
Hydrochloric Acid 35% (HCL / Korea)
Hydrogen Peroxid (Korea)
L
LABSA (Korea)
Lubrican (Korea)
M
MDI (Japan)
Melamine (Japan & China)
Methylene Chloride (China)
Mono, Di, Triethanolamines (Korea)
Mono, Di, Trimethylamine​ (Korea) ​
M I B K (Korea)

N
Nitric Acid (Korea)
Nonionic Surfactants (Korea)
P
Phosphoric acid 85% Tech (China / Korea)
Phthalic Anhydride (Korea)
Polyol (Korea)
Potassium Carbonate (Korea)
Potassium Hydroxide (Korea)
Propylene Glycol (China)
Purified Terephthalic Acid(PTA) (Korea)
Purified Isophthalic Acid(PIA) (Korea)
PVC (Korea)
Phosphoric Acid : The raw materials supply from Samsung Electronic which is well known Korean major company. We're official sales channel of all manufacturers, so we can supply remain stable. At this moment we export on a regular basis to Brazil, Argentina, Iran and United Arab Emirate. Our customers are satisfied for our quality, price and packing. We can supply stable quality 'Phosphoric acid' at competitive price.
We can supply by 35kgs pe can, 330kgs pe drum, 1,500kgs IBC tank(Schultz type).

R
Recycle Isopropyl Alcohol (Taiwan)
S
Saccharin (Korea)
Sodium Lauryl Sjulphate Ether 70% (SLES 70%) (Korea)
T
TDI (Korea)
Tio2 Rutile (Korea)
Z
Zinc Chloride (Korea)
Zinc Oxyde (Korea)